Miracle From God-  The touch of Jesus never fails in any single people's life of the whole human History!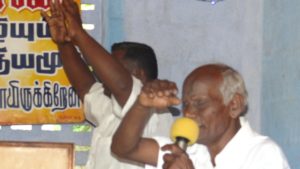 Pr.Joseph.S
Pastor Richard Joseph is chosen by God for the end-time revival in India. Through his ministry, God brought thousands to the kingdom of God. Pastor Richard Joseph reached thousands of villages through his ministry. He is very bold in preaching the Gospel and in the ministry of Indian soil.
Here I am so much glad to work for the Lord and praying for the Lord should send His people to come and work for the Lord in India. Still in India, I could challenge you there are so many thousands of villagers who never before heard about our Lord Jesus who He is.
WHO WILL GO FOR THIS DYING PEOPLE? Among those many people of India who do not know about the Lord Jesus. WHO WILL PREACH THAT? He is the only real Lord and savior. But through our ministry, Lord is changing many people's hearts.
This is really the happiest thing and you could also know how we got saved.
My dad's name is Joseph his father Savari Muthu was a Hindu man and his lifetime he got converted into Roman Catholic . My dad  was helping my grandpa in his agriculture work. Same time he got a job as a teacher in private school  just for 1$ in 1980's as his monthly salary .it was not enough for him to run his family in the year 1980. He had to work in the sugar cane field and rice field flower garden plugging flowers and selling it in Market then he had to ride his bicycle for 40 miles. The very next year   1981 he was affected by T.B and hospitalized.
WE BECAME ORPHANS AT STREETS ROAMING AROUND HERE AND THERE WITHOUT ANY OF OUR PARENTS IN THE HOUSE. OUR MOM WILL BE IN THE HOUSE AT VERY LATE NIGHT. IF WE ARE LUCKY TO WAKE UP IN THE MIDDLE OF THE NIGHT WE COULD SEE HER WITH COVERED HER BODY BY BLANKET. WE BARELY SEE OUR PARENTS WHEN WE WERE LITTLE. OUR ELDER SISTER WOULD GET FOOD FROM HER FRIENDS HOUSE AND FED US OR WE WOULD DRINK PUBLIC BORE WELL WATER.
We never wasted our food or cloth we would not have more than one sets of dress that also would be given by the government school freely.
I could remember the time I carried firewoods in the mountains area and cow dung all my childhood to young days by picking them up with my hands make it as a bread at walls for people to cook rice food in their firewoods.
I REMEMBERED THE TIME I WAS IN YWAM MINISTRIES I WENT WITH OUR TEAM THERE WAS RAIN IN A REMOTE VILLAGE. I HAD TO ACT as JESUS BEEN CRUCIFIED ON CROSS BY THE PEOPLE. WHEN THE RAIN STOPPED WE DID THIS DRAMA. BUT THE ROAD WAS HAVING WATER AND COW WASTE WAS ALL OVER MY FACE BECAUSE I HAD TO BE LAID DOWN. I DID IT AND ALL OUR TEAM MEMBERS ASKED ME HOW COULD YOU LAID DOWN ON COW DUNG? IT WAS NOT A NEW THING FOR ME TO LAID DOWN ON COW WASTE BECAUSE I WAS LIVED AMONG THOSE.
I know hungry what it means and suffering what it means. Even now I would do any menial Job because I had a life before lived as an Untouchable person in India. Now my work is to bring the people from different sinful ways where Satan is captured many millions of people to do his menial activities. I remembered those days though I was beaten up for the Gospel I was going to preach the Gospel without eating a portion of food for three days in a row. The reason I was not married for a long time if I martyred for the Lord (which I am wishing it ) I did not want my children to become an orphan like me lived in my childhood.
The doctors were given up a hope for my dad .So my mom begins to wander around like a madwoman, Is there any God who can help us? But she was searching for the good thing in all the wrong places of her known different religious rituals and practices before their idols. Finally one of my mom's friend who was a Christian lady advised my mom by said; you are saying that you are a Christian so why don't you try to put your trust upon our Lord Jesus once again in a different way.
                                Prophetic word From God
Then my mom decided to go with her friend to one of the Bible-believing churches there only 5 members were there. When the worship was going there was a prophetical word came to the people like this "here is a woman coming newly here, your husband is affected by witchcraft if you put all your trust upon the Lord Jesus he will save your husband and your kids. I have chosen your family to serve the Lord as a mighty instrument to preach the Gospel in India and many parts of the world. I will save your husband lives."
Then all these people were asking each other for whom was this prophetical words? Whose husband is not feeling well and affected by witchcraft? Then my mom said my husband is in bed at hospital .we don't have a hope about my husband she said. Then all the people at church were prayed for my mom and also they came to our house to our remote village and removed all our idol and pictures.
My mom came to my dad said everything that was happening in that prayer time at church. My dad also put all his trust upon our Lord Jesus but doctor said you need to take your husband to your home before he died because you are saying nobody for you to take care of you.
                                                              Dad Trusted The Lord
At that time very risky to hire a car for my dad's dead body if he died so my mom took him to our home. Because still in India Hindu people believe when a person dies outside of their house like anywhere in the hospital they do believe the devils will be surrounding with that dead body. Sometimes they can attack the car when they taking those dead bodies so they will cut and throw the lemon fruit on their way to up to the burial or burning place(Graveyard). They think lemon can chase the devils that is why when you go to India you can see lemon in front of their car, Bike and any Vehicles inside. Even today when a person died at Hospital or accident, suicide they will not take that body to their house and from there to burial places. They still think that they can bring lots of devils into their home. For normal dead people they will bring all of their relatives and decorated them with flowers garland because they think they became a god and they will protect them. So they put their pictures frame and begin to worship them with their idols as I did worship my dead grandfather before I got saved.
We know all the rituals in this world that are being practiced really blindness from the devil . Every day we were expecting our dad's death we were cried every moment of our life that was our life before our Lord touched us. We were not had hope about my dad will be alive for the next day. But we were broken in our hearts and pray by putting our hands upon my dad. We were helpless by all our relatives and friends. My mom only taught us how to cry before our Lord.
After we became a believer we never go to the people for our help but we are looking up to our Father in Heaven. The Lord used some of the Christians to teach the real truth and how we have to worship our Lord Jesus' spirit and truth. My mom begins to put her final trust upon Jesus and we were prayed. The Doctor was said to my mom that my dad will be dead soon some days now or later one month. We were very active in putting our Final trust upon the Lord Jesus so my dad was not yet dead after three months passed. We got all so excited and praying all the time in our house and the touch of Jesus never fail in any single people's life of  the whole human History!
                                            Healing From God   
Then we were so much happy. Also my dad could not have sensation from his hip to bottom before but now he can move his leg or stand or sit slowly he was getting his sensation back again in his body. My dad  was laid in his bed for more than 6 months at a hospital and more than 6 months at home. Our family put all our hands upon my dad to pray for him every day for more than hour. Lord we know only you in this world . We don't have anybody, we will do whatever you are asking us to obey for you Lord please Lord heal my dad.
We are so much learned how to plead before our Lord in our life living . I believe this is the Lord's will about our family . We could not believe when our dad got sensation and slowly he was sitting and walking we were glad to see our dad was walking through our staff. Like a parents how glad for them to see their kids are walking we were glad to see our dad was walking as I am typing this I could not control my tears. With tears I am typing it that Now my dad is living walking more than me fast walking, doing more than me do work for the Lord and talking more than me speak it's making me so much happier. My dad loves
Jesus very much in his life and his heart . He was reflecting Christ-like characters many of the Hindu families in that village and surrounding villagers got saved. He is helping us to do the will of our father in our life. 
My dad was a Hindu drama conducting director in surrounding 30 villages before he got saved now those villagers asked my dad by saying, you are a person who escaped from the death pit. We are here to requesting you to conduct our Hindu dramas for our idol worship festivals. My dad looks at them by smiling said to them if you want me to help you with anything I could I am very glad to give you my help. But as you all know me how wrecked, broken, how bad I was how much I tried all your rituals for your gods and goddesses to help me in my dead sickbed. But none of them couldn't come and help me.
By holding a BIBLE IN HIS HANDS said to them, THE ONE WHOM I DID NOT KNOW HE CAME TO SEARCHED ME WHEN I WAS NOT SEARCHED HIM BEFORE". He can help you with all of your problems so I cannot do anything for your Idols. From that moment onward 1985 to now also my dad is preaching the Gospel in all of his influenced Hindu villages without any Christian organization helps or support.
Now the Lord is asking us to work for Him so we decided to serve our God as a family. We rejected to work for the world after my schooling I have gone to bible college to do my Bachelor of Theology and Masters of Divinity then my brother and my older sister everybody we are in the ministry field to show the seed of the Gospel in many parts of India.
We are as a family ready to die for the Lord Jesus even today.We've gotten lots of opposition, persecution from the Hindu people when we went to preach the Gospel in many other villages. Because we became a TRUE believer from roman catholic our relatives all were hated us. We had challenged them that only we need Jesus, He is enough for us more than any rituals . He  IS  A TRUE GOD NOT A MARY IF YOU BELIEVE JESUS HE WILL HELP YOU TO UNDERSTAND THE TRUTH.NOW WE HAVE PLANTED MORE THAN 7 CHURCHES WE NEED TO DO MORE FOR OUR LORD.SO WE ARE EXPECTING GREAT THINGS AND MIRACLES THROUGH OUR LORD JESUS.
NOW WE ARE 100% SERVING FOR OUR LORD.WE WILL LIVE ONLY FOR HIM AND SPEAK ONLY FOR HIM AND DIE ONLY FOR HIM.
My dad was acting before as a Hindu god's in his villages whenever those villagers had festivals. But now my dad said to them when they were asked him to come again to organize the Hindu drama he said .sorry I cannot come because those gods and goddesses did not give me my life but only this God. (He showed them his bible ).
My dad was burdening for the kids so he took us to various villages among kids he was dancing and teaching about the gospel and stories when were little.we preached the gospel to many villages kids. I also got a much burden to serve God because we saw in a church nobody wants to come to serve the Lord. Because they ask who will take care of me? If I go to ministry nobody will be there for me to take of my family and me. But as a whole family, we saw the heart of Jesus ready to use us and send us into the field .we are ready.