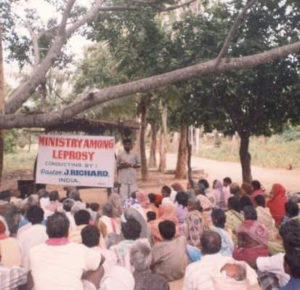 Dear Pastors, Mission directors, Brothers and sisters of the Ministries in America we bring greetings to you in the precious Name of our Lord and Savior Jesus Christ!
Pastor Richard Joseph is visiting the states for sharing about the mission fieldwork in India what God is doing through him and his pastor's team. God has used us to plant more than 7 churches, taking care of orphan children, rice help for widows, trained MORE THAN 300  native missionaries and preaching the Gospel to the poorest of the poor  Leprosy in their colonies in India.
Once when Pastor Richard was sharing the Gospel to one of the old mothers who were 50 years in a remote Hindu village. She asked him "  your Jesus is how much rupees per Kilogram? But I don't have money to buy a Kilogram of Jesus".  She thought Jesus was a thing to get through money because She never heard about Jesus before in her whole life.
Many hundreds of thousands of people are dying every day without hearing even the name of Jesus one time of their whole life. You can be a  part of this great work for the Lord. YOUR SMALL INVOLVEMENT  SURELY WILL BRING MANY CHANGES IN THE INDIAN FIELD! Thank you !
Pastor Richard Joseph.India.IMMOVABLE GRACE.
Email:  richardspastorj@yahoo.co.in
Cell   :  410-274-7392.
We need volunteers for web designing and newsletter help!