Hundreds of Santali tribes heard the word of God Morning to evening 5pm.
Immovable is reaching the Darkest state of India tribals in Orissa and Andhra Pradesh by IGMI native missionaries!
IGMI is helping the widows through rice projects and giving them a Gospel to the poorest of the poor women who are broken up and lost their hope by their families and friends. God used our members who are in the ministry more than 10 to 30 years in the ministry each of them are prayer warriors and how to preach the Gospel to the villages people of India . We call them as our native missionaries and team members. They are all educated in secular field who got saved and dedicated humble people of God to reach the unreached areas for the Lord. God is bring many souls through their hard work of doing evangelism through them doing by walk into many miles for Jesus . 
 Here is a lady was not having for many years our IGMI team went to pray for her and she got a son . Now she and her family is serving for the Lord .
Many children in the villages they never heard about Jesus our IGMI teams are going into the villages. Our team member ravi and David anbu constantly doing evangelism in to the remote villages where there is no single shop,hospital,public transportation even still 2018.
Ravi done Engineering but he is very dedicated to serve the Lord.
Many of the old widows are helpless and hopeless no one is there for them but our team members are taking the Gospel seed as well as some rice. When they found there is a great needy people then they help them with rice that will give them a 3 times a food. Many mothers are cried before the Lord through our carecell and villages ministry. We need a prayer and support for our team members who are educated.
 Mala is a dedicated girl who finished her Bsc(physic's) but she is serving the Lord among villages . She is more courageous person to go into the villages where there is no Christians can enter. she planted many of the carecell into those areas for the Lord.
 Our team member Pushpa Mary was a teacher in the Public school she have an experience of doing ministry more than 38 years.God is using her among villages women everyday .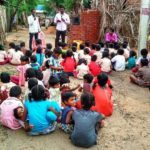 We have pastor stalin also a effective man of God among children in the villages . He is reaching more than 30 villages.
 Each villages more than 30 to 40 kids are hearing the Gospel on regular basis. Please pray for the children who are from Hindu families in India.Please pray for IGMI and we need a help at least minimum 30 to 40 $ for our team to get their rice so that they can be on in villages for Jesus at any time of their days. We are longing to have your help for our missionaries . They will pray for you and you will be connected with them.