BELOW THIS BANNER IS SAYING THE LORD ONE WHO FORSAKEN US IN THE TSUNAMI WE DON'T WANT. CHASED OUT CHRISTIANITY AND ITS MISSIONARIES FROM OUR NATION
1.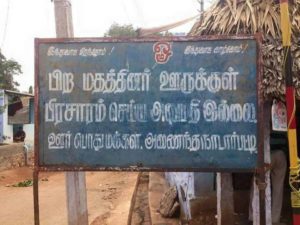 Many parts of Indian villages entrances, they put a billboard it is saying no other religious people are allowed to come in for preach or convert any of our people. But one of these villages a man name is Pandi he said us to come to his house and not conducting normal prayer meetings start with singing songs etc. but teach us like moral teaching sessions. So he said I know before you conduct a meeting at a street where anyone can hear about Jesus but now we need your protection so please come inside and we will come to you for a welfare meeting from a Social organization you can come to us. Then teach us about the Lord Jesus. The thing is MR. Pandi has already a welfare meeting in his house so those people still thinking that he is holding a meeting for people's welfare purposes. Yes, indeed he is helping people to walk in the ways of our Lord. Our God is miraculously doing wonderful things in this village. Nearly 20 people are attending in pandi's house.
2.
Aruna was saved from a strong Hindu family. But she is the only daughter in her house from a middle-class family. Because she became a believer there is no one ready to marry her from her relatives. So all of her relatives and family were saying to her if you are Hindu you would be married and having a blessed life.  But Aruna never give up her hope on Jesus she said my Lord is faithful to me so far He never leaves me nor forsaken me. But time passed her parents thought that she would never marry because they said to Aruna that all Christians are low caste when you marry a low caste people please don't come.
But Aruna got a nice guy from their same background who got saved. He shared the Gospel with them in a way the Aruna family could accept Jesus. Because Aruna's father is a carpenter man is called (in caste – Aasari means carpenter ) in India Asari. Aruna's husband said to them Jesus also carpenter he died for all of us particularly Jesus was doing the same job we are doing it. Aruna's parents moved by it now they all give their life to Jesus. Now the whole family is Coming to church every week and bible studies and all our prayer meetings by bringing up some people with them.
---
 3.
A woman name is Kaleeswari a strong Hindu lady never heard the name of Jesus before. But she lived as a prostitute in her village. She has nobody to share about her life. One day when she was passing by a shop she heard a group of people singing a song about Jesus where our Immovable Grace Village ministry team conducted a prayer meeting.
While she was hearing the Gospel Lord touched her heart she was cried out for repentance and given her life to Jesus. She had thrown all of her idols. Now she is not a prostitute anymore doing evangelism in the villages after villages.
Now her villagers are seeing her face is filled with happiness and Joy many of them begin to be her friends. Kaleeswari is sharing the Gospel with many of the village children and people who are spending their lives without Jesus. She is a living testimony to more than 20 villages whom she knew by the people as a prostitute.
---
4.
A man name is Perumal was an orphan from his childhood. But he was grown up in his uncle's house who promised his parents by taking care of him well. Perumal parents have died from HIV. They were given their house and other property for them to give education and food. But after 2 years they stop sending him to school and sent him to work in a market. He was staying in a market all of his time then he got leprosy after he got it he went to his uncle to give him medicine. But he told him to not come home anymore because of leprosy. Then he went to the Government hospital for getting free medication there he told his situation. He was sent into Leprosy home. There he got no one to come and see him and care for him. This month he was decided to leave the home for taking poison. He thought no one is there for him in this world why should l live? He was crying out in his bed I have only one thing if there is any God let them show to me in any way that you love me. There when our IGMI team went to preach the Gospel they said Jesus loves the people who affected by leprosy He died for them also.
Jesus cleanses leprosy so when Perumal heard those words he asked Jesus now I believe you are the true living God who sent these people to answer me, revealed yourself to me. Perumal realizes only in Jesus he has a purpose live. He received Jesus as his Lord and savior. Now he is preaching the Gospel to other Leprosy in surrounding leprosy colonies in India.
---
5.
A woman's name is Sangari she got married 7 years ago but the doctor said her she cannot have a  baby anymore. But she was going to many temples and doing all kinds of witch practices that make her pregnant. None of her attempts was helping her to have a baby. One day when she was crying for a baby her husband said to her there is a group of Christians (IGMI Team) are praying maybe they will help us to have a baby. So she attends there and heard the Gospel begin to believe the Lord will give her a baby. She also asked the team to pray for her they were saying about Abraham's story and help her to believe in the Lord. She started to believe in the Lord. She begins to get pregnant Now the Lord Jesus given her a son. She and her whole family trust Jesus is the true Living God. Now she not only come to the church but also sharing what God has done for her to her villagers.
---
6.
Free tuition has been started in 2 villages for poor children. In a remote village where there is no single shop or hospital, all people are Hindus no one single Christians among 2000 houses. Our IGMI team went to preach the Gospel by going after the walk on a muddy hot road. There was a man name Sundaram he had affected by Tuberculosis. He could not able to go out and work but his wife is the one who finds a cooly laborer. They have one daughter who is a teenager could not able to go to school because they spent all of their money on his disease medication.
When our team sharing the Gospel he gave his heart to Jesus and received the Lord as a first person in that Hindu village. Though he is still sick he believes in the Lord Jesus Christ will heal him completely. There is a prayer meeting happening for other new believers to come and hear the word of God on a weekly basis. His daughter and wife see many changes in him that before he can not able to eat food or walk but now he gets much improvement in his body that our Lord Jesus is healed him.
---
7.
Even in 2017 years passed a village never allowed any Christians into this village for preaching the Gospel and converting people.  Pastor Richard had been chased out from this village when he was preaching even last year. There IGMI gospel team went courageously and doing door to door personal evangelism many of them were not receiving even the Gospel tracts because they were not able to read or write and warned by their village Hindu leaders do not have any relationship with other religious who come into the village. Finally, a lady name Shanthi who was Lyme one received it and said to them I do not need any gods or goddesses because my life is void meaningless. Then our Gospel team member Mala said to her I know how you were escaped from the fire accident. Though your parents, all of your relatives and lover forsaken you God still thinking about you He has a special plan for you.  Our IGMI team prayed over her she was heartbroken cried before the Lord and received Lord as her personal savior. Now IGMI has given her a Bible she is started reading her Bible and talking about Jesus all the time to the village children. Many Children are coming to the Lord because she helps her village children in their studies.
==============================================
8.
A  Hindu devotee man name is Alagesan who was a drunkard and doing real estate business in India. He was never thinking about his health but he got a stroke. Then he could not able to walk and do anything became paralyzed. People were laughing at him because she never respected anyone so they all thought that he got a punishment from their idols.
He was realizing how this stroke changed his life entirely. But he is living near to the Manathururukathin Sabai. One day our IGMI team member went to do the door to door evangelism saw he was laying down on the floor like the worm. Our team member shared him a Gospel of our Lord Jesus and He can heal his sickness.
First, he was arguing with them then he begins to trust Jesus and they prayed for him. He got healed now he can able to walk. He could able to sell sandals store now he could able to come to worship the Lord. All of his friends and relatives are mocking him that he became Christians like he only trusting one God rather than our 3 billion gods and goddesses. But he is standing for the Lord saying He only the true loving God and true Living God you may be teasing me but I will live for Him only in all my life.